Content from ATDW updates every 24 hours, usually overnight.
When an import is occuring you will see the loading icon on the left hand side of the CMS under Data Feeds. The circle will show you how far through the import it is. While the import occurs you are welcome to keep working within the CMS and can logout at anytime.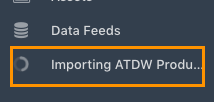 What triggers a listing to update?
Change of status - Active, Expired, Inactive

Change in description or event times

Change to booking website URL, contact details

Change of images