After you add a #hashtag or @businessaccount feed via the Roam platform there is a 24 hours wait before the system can import the data.
If after 24 hours you notice that your social wall isn't displaying images please check the below troubleshooting steps to check why it won't have been successful.
Alternatively, if you have had a working Instagram feed that has stopped working all of a sudden please refer to the below section.
Things to check if you created a @account social wall:
Ensure that the account you're importing is actually set to a business profile and not a personal account.

To check this, search for the @accountname in Instagram and open their profile. If the account is a business profile it will have a category in light grey text listed under the main name.

In the example below, Travel Company is the category assigned to the business profile for the Australian Tourism Data Warehouse.



If you don't see this then the account is a personal account and you won't be able to import their images to Roam.

This is a restriction of the Instagram API.



Check that your @accountname in Roam is formatted exactly the same as what is on their Instagram profile.

For example, if the handle on Instagram is @roam_hq then you must also have @roam_hq. A variation such as @Roam_hq or @Roamhq will not work.

If you need to amend your @accountname in Roam please add it as a new entry rather than editing the existing.


Things to check if you created a #hashtag social wall:
If you're importing a #hashtag to Roam but the images haven't pulled through, search the #hashtag in the exact same format on Instagram. If there are no images that surface for that hashtag it's not in use so try searching for a similar hashtag to get more results and add this to the Roam platform instead.
If you're still unsure please get in touch with the Roam customer success team and we'd be happy help.
My working feed has now stopped updating
The most likely reason that an import would suddenly stop is if your Instagram token has expired within the Roam platform. It's an easy fix and just requires that you sign back into your Facebook account which is linked to your business Facebook page for your destination.
1. Sign in your admin for Roam
2. Go to the Data Feeds tab, then Instagram
3. Click on Continue with Facebook and log in to the Facebook profile linked to your business page.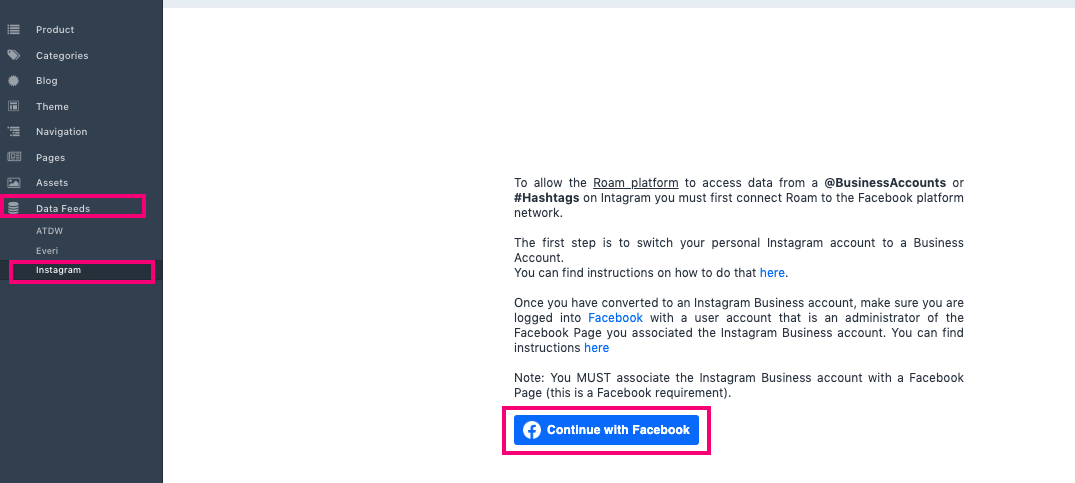 4. Once logged in, Roam will return you to a page like the below screenshot. You're all done! The import will run in the next 24 hours and the images will pull through. If there are any further troubles please contact customer success.