In this article:
An introduction to "Open Graph"

Why Open Graph is important to destination marketers

Adding Open Graph tags in Roam

Technical details
Introduction - what is open graph?
Open Graph (OG) was first introduced by Facebook in 2010. It allows websites to integrate with Facebook by making their content available in a specific format. This content can then be displayed in Facebook and other social channels with the same functionality as other content.
Put simply, Open Graph provides some control over how information travels from your website to social media when a page is shared (or liked, etc.).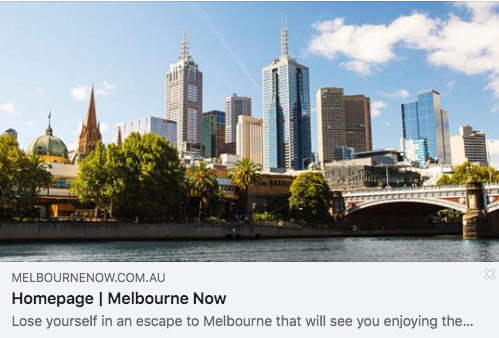 Open Graph data is used by all major social media platforms (i.e. LinkedIn, Instagram, Whatsapp). And while Twitter has its own format called Twitter cards, Twitter also defaults to the Open Graph data if not defined.

Why should you care?
The rise of social media has impacted the travel & tourism industry profoundly. Today, travellers are turning quite naturally to social media platforms in the process of travel decision making.
87% of millennials use Facebook for travel inspiration
69% regret not taking a last minute trip
Not surprisingly, social media sites have become a major driver of website traffic. Consequently, it's vital that a destination marketer harnesses the power of social meta tags. The right image and copy have a huge impact on click-through rates and conversions.
How to optimise OG tags in Roam
Under the SEO tab of any Roam entry (a page, article, or product page) you'll have the option to include an OG Title, OG description, and OG image. We highly recommend taking advantage of this opportunity when you're publishing content!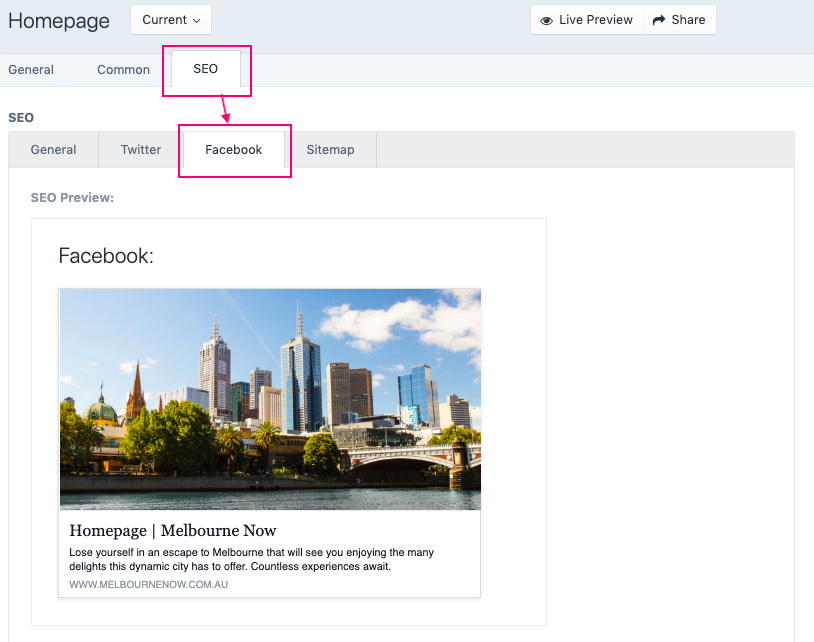 To change the copy specifically for social sharing scroll down the Facebook tab and change the Title Source, Description Source and Image Source to Custom text/Custom Image.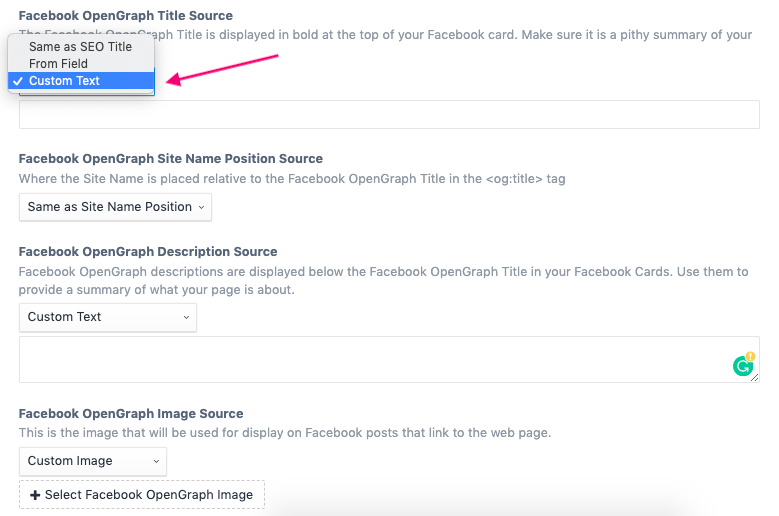 Advanced technical knowledge
In Roam you can configure your basic page-level OG tags directly from the platform, but in fact, there are many more OG tags that Roam uses in the backend to specify your content.
Want to learn more about open graph? Refer to this page.
Want to test how your website looks like when shared on Facebook? Facebook offers an Open Graph debugger that allows you to verify your Open Graph is detected, there's no errors, and that it's rendered in the way you would like it to look.