The Products component is a flexible content block that allows you to merchandise specific operators and events on any page or article on your Roam website.
Within the Roam platform, a product is any operator or event entry, ATDW or otherwise.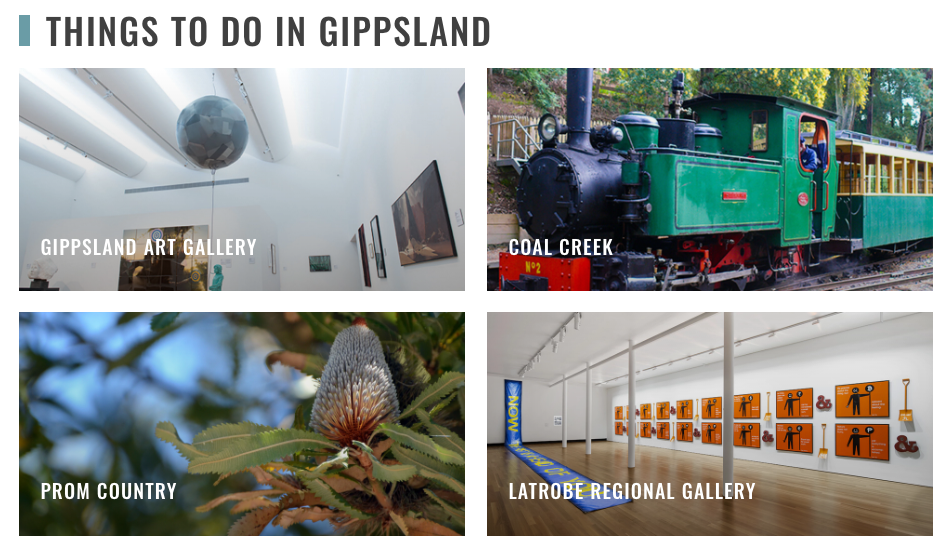 RELATED: The basics of operator and event entries
1. Adding a product block
Create a new page or edit an existing one. In your page builder toolbar, click "Products". The great thing about page builder is you can add as many product lists to a page as is needed!

2. Add an optional heading
Headings are optional however, they can provide valuable context for your visitors who will be engaging with your product list. They also provide context for search engines to understand what's meaningful on the page.

3. Add operator and events to your product block
Any operator or event in to Roam can be added to a product content block. To add an operator or event, click +Add product and select the operator or event you wish to add to your list. You can choose an operator or event by scrolling or using the search/sort functionality.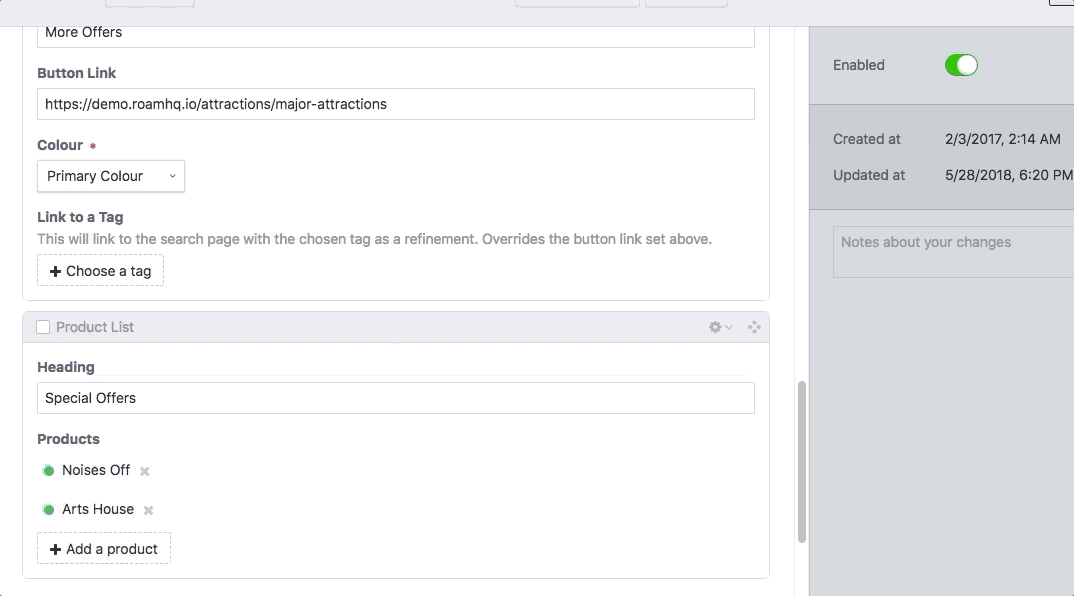 4. Add a call to action button
The Product content block also includes the option to add a button to link to another page or external URL. This can help guide your visitors to view similar or related content. If it's not required then leave this field blank.
To add the call to action button, head to the Link segment of the Products content block.
Next, add a call to action eg. "Explore All Activities" and link your page entry or external URL. In the below example we have linked to a search query for the town of Halls Gap.
You are also able to select if you would like the link to open in a new browser window. By default, the page will load within the same browser unless the checkbox is ticked.

Important note for customers who are still onboarding:
Don't forget that the Roam platform already knows your domain name so you only need to copy the URL section that starts after your domain. For onboarding purposes, Roam has given you a temporary domain yourdestination.roamhq.io. After launch, this domain will no longer exist so if you link to the full domain your pages won't work.
If you wanted to link to the Food & Drink search of your search and the onboarding domain was yourdestination.roamhq.io/search?query=food-drink the only section of the URL you need to create your button is /search?query=food-drink.
When your site goes live the platform will then know to send visitors to the right search page on the live site not your onboarding environment.
RELATED: Linking to pages or search on your site
Top Tip: To help keep your visitors on-site and viewing your content, we suggest linking to another page on your site if you want to use the call to action button.