Before you get started
Logging into Roam requires you to have an activated Roam account. Accounts are created during the Roam onboarding process by your Customer Success representative.
If you need a new user added to the platform, please contact your Roam Customer Success representative on support@roamhq.io.
How to log in:
To access your ROAM platform append your website's domain name with

/admin/login

.

For example, if your website is www.mywebsite.com, your Roam login will be www.mywebsite.com/admin/login. This page will not be indexed in search results

Enter the username or email associated with the account and password

Click "Login"



Forgot your password? Click the "forgot your password?" link and you'll be emailed a link to reset your password
How to log out:
To log out of your account, head to the top-left corner of the CMS and next to the C symbol there is a dropdown. Sign Out will appear at the bottom of the dropdown.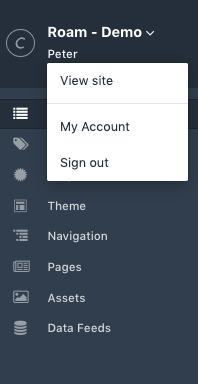 Pro tip: Add the login page to your browser bookmarks for easy access to your Roam account