You've gotten this far and now it's time to add content to a page!
1. Create a new entry
To add a page, go to Pages (in the left-hand navigation) and click +New Entry. Now you have a blank canvas and all the tools you need to create a page!
2. Choose a title
The first thing you need is a Title. Titles are used to identify your pages and are mandatory to publish or save content. Titles are also how your page will be found by users and Googlebot, therefore, should include primary keywords.
4. Add your content blocks
Use content blocks to build a page. Content blocks are pre-designed to help you build a page that is flexible to your needs while maintaining excellent design qualities.
To add a content block simply click on the specific block under the page builder heading. If you're using a small-screen device, click + Add a block instead to see the full list.
RELATED: A list of all the content blocks and what they do

Once a content block is added to the page, you can collapse/expand, disable, delete or drag it above and below other content blocks.
Some content blocks have mandatory fields that need to be entered before you can save or publish. These fields are marked with a red asterisk (*). If you can't publish a page because a content block has an empty field, Roam will notify you with an error message.
5. Preview your new page
Live Preview lets you view a page before publishing and edit content in real-time. To view and edit in live preview mode, click the Live Preview button (top right).

6. Save and publish!
Congratulations! You have made your first content page.
To save and publish the entry now click the "Save" icon.
To save as a draft click on the arrow icon next to "Save" and a dropdown will appear. You can come back to this entry at any time.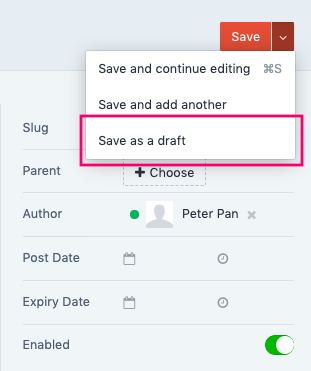 To set a publish date choose a date and time in the future in the Post Date field. Ensure your entry is still set to enabled and this page will go live at your schedule time automatically!