Whether you're in the content entry phase prior to your new Roam site launching or your site is already live, below is our best practice guide for adding URL links across the Roam platform.
Linking to an internal page
An internal URL is any web page that lives within your Roam website.
There are two ways to link to an internal page depending on the component type.
1. Link to a page within a body of the text.

Within a text block you can link to a page entry within the platform by following the below steps:
Highlight the word or phrase of text to hyperlink

Click on the link icon shown in the screenshot above and click link to an entry

A window will open where you can pick the entry to use as the hyperlink.

Save

your entry!
2. Link to a page as a button on the products or pages component
In the example below, we're linking to the "See & Do" page within our Roam website as a button.
You'll notice here the URL starts with "/see-do" instead of something like "https://www.mywebsite.com/see-do". This is because if you're linking within your own website, Roam will know your domain and automatically append it when a user clicks on it, saving valuable time and increasing speed.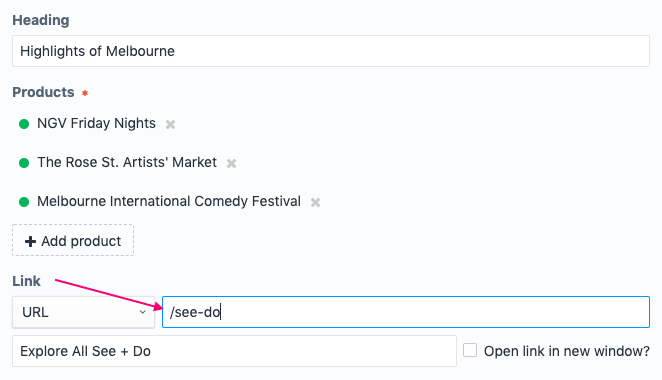 Important note for pre-launch content entry:
During your onboarding, Roam will provide a temporary environment for which you can upload and format all of your content. This will likely be on a temporary domain such as destination.roamhq.io. After launch, this domain will no longer exist and will move over to your destination's URL.
When you're linking to internal site pages or search URLs as a button it is important that you don't reference your temporary address in a link. Eg. destination.roamhq.io/search as this link won't work once live.
Remember to follow the same structure as the above screenshot. See some more examples below.
yourdestination.com.au/search

- to link to a search page you would just copy /search

yourdestination.com.au/see-do -

to link to your see & do page you would just copy /see-do

yourdestination.com.au/see-do/water-activities/water-rafting

- to link to a water rafting page you would just copy /see-do/water-activities/water-rafting.

yourdestination.com.au/products/the-MGC - you would only copy /products/the-MGC
Linking to an external URL
External pages are third-party websites outside of your domain. These might be links to your local operators' sites, visitor information centres or local council sites.
To link to an external page copy the entire URL from their website and paste it into the URL space provided. You can then customise the call to action button to anything you like.

This can also be used to add links to phone numbers. By adding a link to a phone number, this enables a dial/call function for the users device and browser.
For example: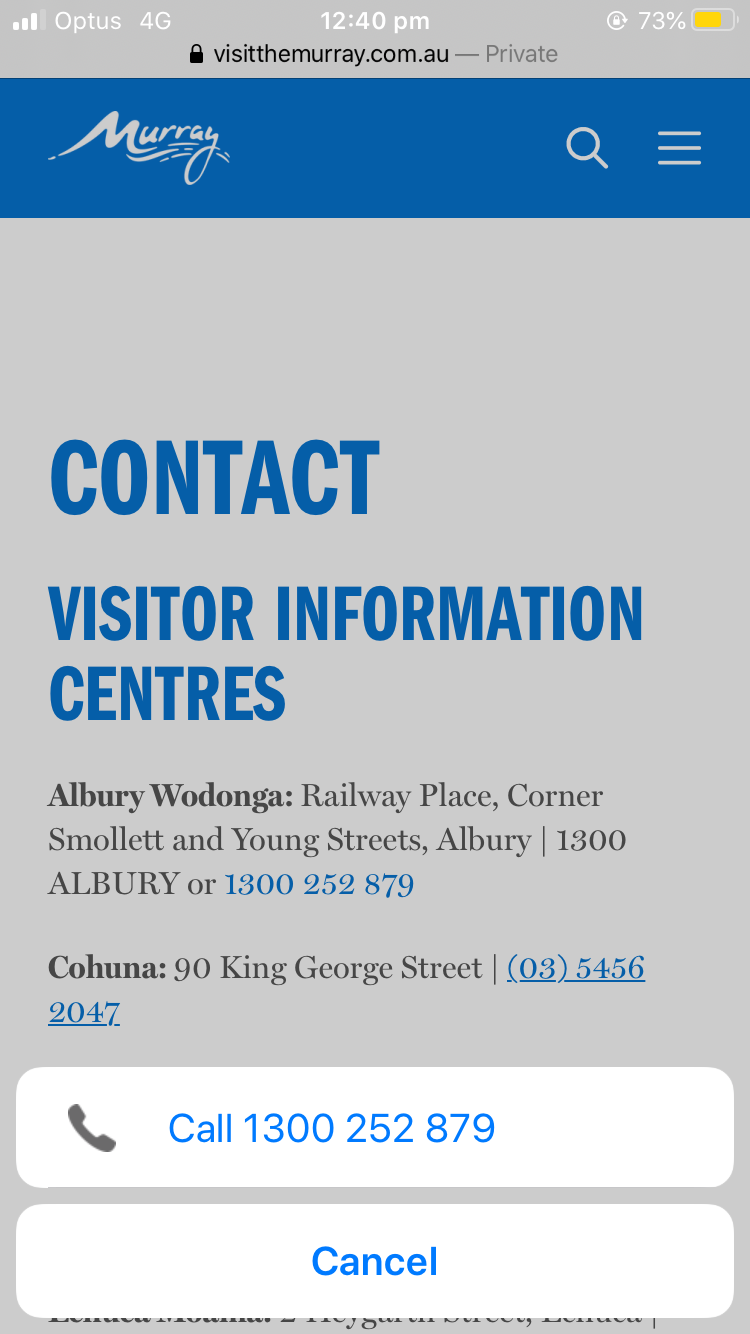 To add this functionality:
1. Type the phone number (mobile or landline)
2. Highlight the phone number and click the link button - select Insert Link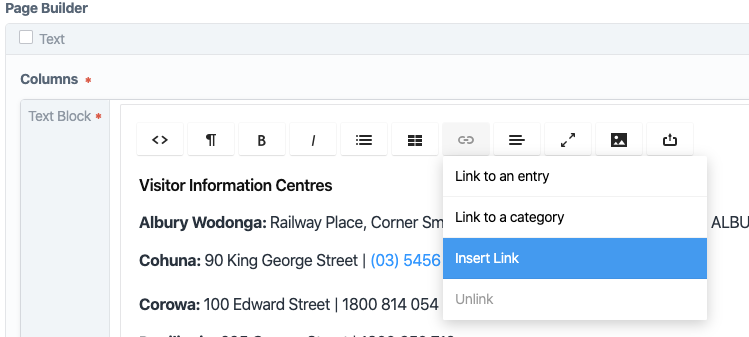 3. In the URL field add 'tel:' before the number, remove any spaces. Example below: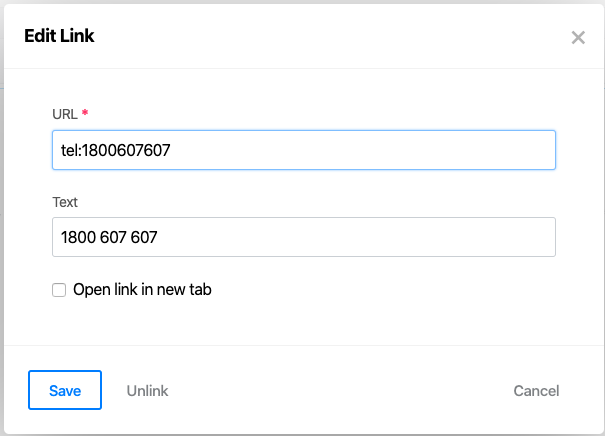 4. Press insert, save the page and then test on the page in the frontend of the site.